Firewall E-WALL
Firewall E-WALL EG2230S under pfSense® CE 2 ports 2GB SSD 30GB
Availability:
Reference: EG2230P-EU
E-WALL Firewall EG2230S 2 ports, installed with pfSense® CE
Celeron N3160 Quad Core Processor / 2GB / 2 GigE / SSD 30GB - EU Power Supply - 1 Year Warranty Return To Workshop
Firewall router under pfSense® CE for TPE / SME up to 50 Users
Installation benefit of pfSense® CE 2.4.x (Community Edition) included, Firewall ready to use.
Intel Celeron N3160 Quad Core 1.6 Ghz Processor, Burst 2.08 Ghz - 2GB RAM - 30GB SSD Storage for OS
2 express miniPCI - SATA SSD disk support and WIFI card support
2 customizable Gigabit ports (WAN / LAN) - AES-NI support
Fanless low consumption case (6W), no noise
Small footprint - EU format power supply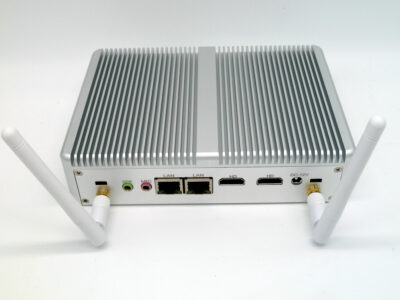 pfSense® software is a free and open source distribution of FreeBSD, specifically designed for use as a firewall and router, managed entirely through a web interface. Apart from being a flexible and powerful routing and firewalling platform, it includes a long list of related features and a package system allowing for additional scalability without adding clutter and potential security holes to the distribution.
Firewall EG2x under PFsense® CE – 2 Gigabit ports
A powerful, complete and efficient Open Source Firewall !
A complete "fanless" firewall box for VSEs/SMEs
The Firewall E-WALL EG2x box is equipped with the pfSense® software in version 2.5.x. This very compact firewall is equipped with a WiFi b/g/n card. This makes it possible to create a protected WIFI zone making it possible to extend the capacities of the Firewall.
The box has 2 Gigabit Ethernet ports, a powerful Celeron N3150 processor, supports AES-NI, and can be equipped with 2, 4 or 8 GB of RAM to accommodate all the additional memory-consuming pfSense® functions such as pfBlockerNG. The capacities of the Firewall E-WALL EG2x box allow the installation of pfSense®, Untangle®, OPNsense®, IPCOP, Windows 10, Linux, …
Quad-core 1.6 GHz, burst 2.08 Ghz
2, 4 or 8 GB RAM DDR3L – 1600 Mhz
pfSense® Community Edition V 2.5
Strong points of the Router / Firewall EG2x box
Intel Celeron N3150 1.6GHz Max 2.08GHz Quad Core 4 thread processor

2 GB, 4 GB or 8 GB SO-DIMM DDR3L-1600 DRAM

2 Gigabit Ethernet (Realtek RTL8111DL)

1 miniPCIe ports including 1 mSATA 3.0 SSD

Intel HD Graphics (320MHz~640MHz), AES-NI support,

Boot to mSATA / External USB / SATA

SATA connector and power connector (cables included)
1 LED on the front + reset button,

2 USB2.0 Ports and 4 USB3.0 Ports and 1 audio port

2*HDMI, 1*MIC, 1*SPK, 2*Wi-Fi antennas, 2*Kensington Lock holes,

Case without fan, the case serves as a radiator,

Case size 173 x 127 x 39, weight 1.5Kg

Windows 7/8/10 and Linux support for Router, Firewall, IPBX, Probe, IoT, …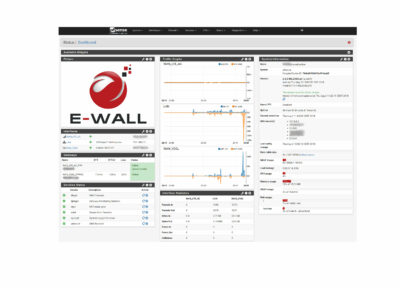 A user-friendly administration interface
Router and Firewall
Stateful Packet Inspection (SPI)
GeoIP blocking
Anti-Spoofing
Time based rules
Connection limits
Dynamic DNS
Reverse proxy
Captive portal guest network
Concurrent IPv4 and IPv6 support
NAT mapping (inbound/outbound)
VLAN support (802.1q)
Configurable static routing
IPv6 network prefix translation
IPv6 router advertisements
Multiple IP addresses per interface
DHCP server
DNS forwarding
Wake-on-LAN
PPPoE Server
VPN
IPsec and OpenVPN
Site-to-site and remote access VPN support
SSL encryption
VPN client for multiple operating systems
L2TP/IPsec for mobile devices
Multi-WAN for failover
IPv6 support
Split tunneling
Multiple tunnels
VPN tunnel failover
NAT support
Automatic or custom routing
Local user authentication or RADIUS/LDAP
IPS – Intrusion Prevention System
Snort-based packet analyzer
Layer 7 application detection
Multiple rules sources and categories
Emerging threats database
IP blacklist database
Pre-set rule profiles
Per-interface configuration
Suppressing false positive alerts
Deep Packet Inspection (DPI)
Optional open-source packages for application blocking
Authentification utilisateur
Local user and group database
User and group-based privileges
Optional automatic account expiration
External RADIUS authentication
Automatic lockout after repeated attempts
Qualité de service
Optional multi-node High Availability Clustering
Multi-WAN load balancing
Automatic connection failover
Bandwidth throttling
Traffic shaping wizard
Reserve or restrict bandwidth based on traffic priority
Fair sharing bandwidth
User data transfer quotas
Sécurité System
Web interface security protection
CSRF protection
HTTP Referer enforcement
DNS Rebinding protection
HTTP Strict Transport Security
Frame protection
Optional key-based SSH access
Proxy et gestion de contenu
HTTP and HTTPS proxy
Non Transparent or Transparent caching proxy
Domain/URL filtering
Anti-virus filtering
SafeSearch for search engines
HTTPS URL and content screening
Website access reporting
Domain Name blacklisting (DNSBL)
Usage reporting for daily, monthly, etc.
Configuration
Web-based configuration
Setup wizard for initial configuration
Remote web-based administration
Customizable dashboard
Easy configuration backup/restore
Configuration export/import
Encrypted automatic backup to Netgate server
Variable level administrative rights
Multi-language support
Simple updates
Forward-compatible configuration
Serial console for shell access and recovery options
Reporting & Monitoring
Dashboard with configurable widgets
Local logging
Remote logging
Local monitoring graphs
Real-time interface traffic graphs
SNMP monitoring
Notifications via web interface, SMTP, or Growl
Hardware monitoring
Networking diagnostic tools
Our firewalls pre-equipped and pre-installed under pfSense® 2.5.x, ready to use!
Our entire range of E-WALL EG2x firewalls under pfSense® is equipped with SSD hard disks with 2, 4 or 8 GB of RAM. The disks are installed by our technical teams, the firewall is tested on the network before shipment with the latest version of pfSense®, to allow faster installation in the company.
Les différentes options disponibles:
Disque SSD de 16 à 512 Go
Carte WiFi b/g/n
Carte LTE 4G
Cluster de OPNsense®
Lien internet VDSL, SDSL, FO
Centralisation des logs
Assistance 8/18h – 5/7j
Infogérance du firewall
Remote installation
Installation sur site
pfSense® est une marque déposée et une marque de service appartenant à Electric Sheep Fencing LLC. Voir www.electricsheepfencing.com
E-WALL® est une marque déposée appartenant à B2M Innovation S.A.S.

Data sheet
Firewall

EGx

OS Firewall

pfSense®

Form factor

mPCIe Full size

Processor

Intel® Celeron® N3150

Processor Architecture

64 bits

Number of Sockets

1

Processor Speed

1.6 GHz - Burst 2.08 Ghz

Number of Cores / Threads

4

Number of memory locations

1

Installed memory capacity

2GB (2 GB x 1)

Memory type

DDR3L

Disk Interface

SATA 6GB/S

Storage

Disque SSD 60 Go

Number of Ethernet interfaces

2 x Gigabit Ethernet

Hardware Encryption

Yes

Supported WIFI

802.11b/g/n

Number of USB ports

4 x Ports USB 3.0

Video output

2 x HDMI

Warranty by EWALL

1 year
Product Comments
Your review appreciation cannot be sent
Report comment
Are you sure that you want to report this comment?
Report sent
Your report has been submitted and will be considered by a moderator.
Your report cannot be sent
Review sent
Your comment has been submitted and will be available once approved by a moderator.
Your review cannot be sent